Vote for this site! "Marianne's Special Top 50 Sites" ADD YOURS ! Become 'MY SPECIAL FRIEND!




VISIT.. "Marianne's Special Friends'..TOP 50.. sites!" ADD YOURS !!">




and...........PLEASE....SIGN MY GUESTBOOK!!I will 'treasure YOU FOREVER! (I come here every day

to meet YOU!) why else would I 'share this?'

(ok....lol, me playing with Beads, etc.)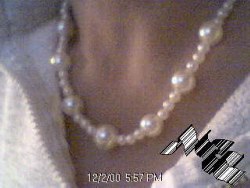 Oh yes..............You can see me 'dance' to this FULL VERSION....on another site!

Don't you NEED A LAUGH TOO? LOL LOL



I'd like to show you my 'latest' pass time.......(Do I ever stop?)

As I think you already know........ the 'latest' fad is 'beads' !
well, needless to say........ I just had to try this !
(but, I did use 'some' of my own stones & pearls)
(photo taken 1998) don't think I've changed too much, LOL of course not!)
"Thank you...... for coming" !

I do 'wear' my own creations too. Why not? Right? By the way...I'VE JUST ADDED 'MY NEW (almost complete) CREATIVE HOME 20O1 ..SITE. AFTER YOU HAVE SEEN EVERYTHING HERE, PLEASE GO SEE 'ALL' THE NEW CREATIONS I HAVE NOW!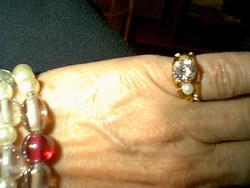 Below and on following pages are 'some' of my Designs.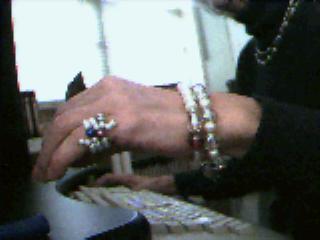 Now....... here we go..........
NECKLACES , BRACELETS AND RINGS...by M.E.C.

NOTE:........ if you click onto the photo of Bracelets It will take you '
"To a Glimpse..... of My Life" (Personal photos etc.) And I've just added a 'free submit site to 125,000 FREE LINK SITES YOU CAN ADVERTISE 'YOUR OWN' SITE ON !!

Write to me......... at:
CreativeKorner@aol.com

here are a few more. They are soooooo easy to create. And FUN !
Some 'Mardigra Glass Beads....... and PEARLS for 'ME' !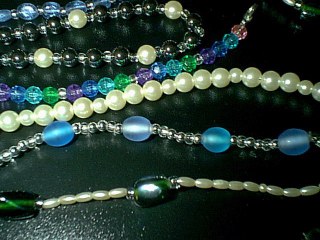 (You can buy MOST of these 'beads' , stones and 'man-made'...pearls at any good Craft store)
(GUESS WHAT......WAL-MART HAS SOME TOO!)
I created the above Necklaces simpply by 'stringing them onto BEAD THREAD. First I tie on the
'clasps' (first at one end, where 'bead' will drop, then when finished at the other end. Very Simple) I felt like my kids and I used to spend many hours of fun at Christmas time...... stringing Pop Corn !
Look at the results, get some ideas!!

Below....... are some BRACELETS...... I enjoyed creating to go with some of the Necklaces.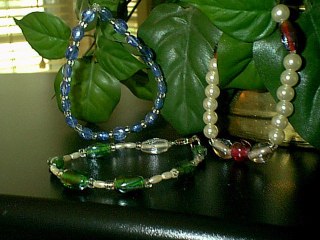 >>>>>>><<<<<<<<
(a different view of some of the braclets)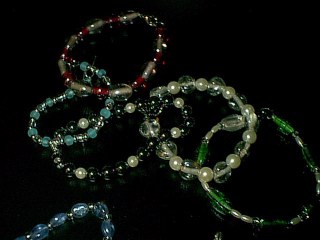 I do hope that you will go and 'visit' all the pages below !
things will be added......as I do have a 'zillion' hobbies! I'm sharing them with you
in the pure hope ........... that YOU TOO will 'try' out your unknown talents!!
Hugs, Marianne
now......click below!!!! See all my 'other' creations. I do enjoy sharing them.

Click onto the rest of the pages on this site below..
I hope you visit them all!
"Welcome to Marianne's Creative Korner!"
again:
Please........ take a moment to sign 'my GUESTBOOK'...
The joy of 'sharing' is to come back here myself and 'see' if
anyone.........came by for a visit. Why else would I share this?
I'd love to hear from you !! Of course!!
Hugs, Marianne. PS. You may wish to see 'all else' I do !!
<
Write to me......... at:

CreativeKorner@aol.com

....





Please CLICK HERE FOR 'A Marianne's Creative Home 2001' ! My Main New Site! with lots of FREE STUFF, PLACE YOUR 'CRAFT' BANNER FREE, and sooo much more !




BEFORE You scroll back up ! OR, How about 'meeting' the Love of your life...if you don't have one for the moment. Or just for the 'fun' of meeting someone new! It's a great site. Like playing games?? Below you can get lots of 'free' ones!! Have fun! But, hope you don't desert me yet. REMEMBER, ABOVE..IS BANNER TO MY 'MAIN' NEW SITE !! ALL NEW AFGHAN Creations are shown there Plus...Soooo MUCH MORE !!